Sustainable development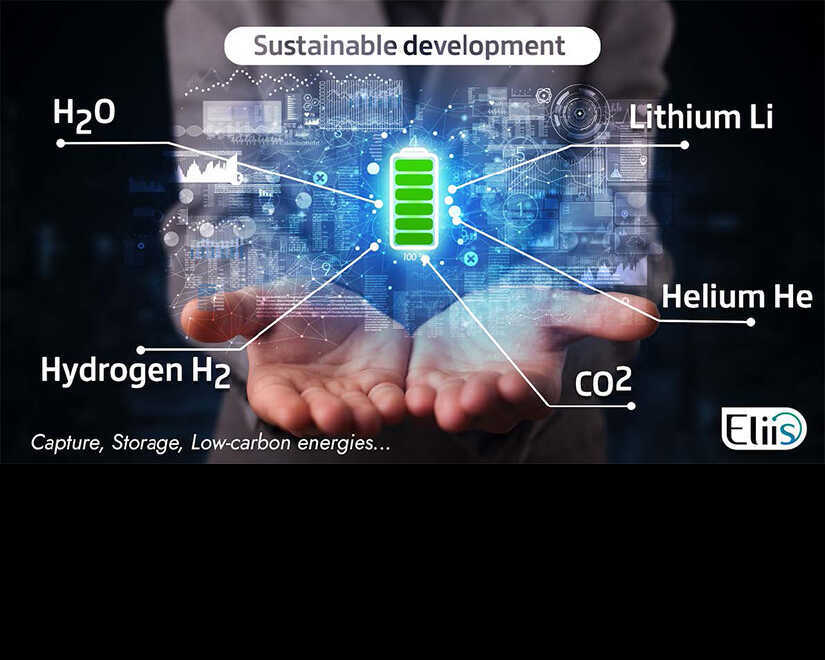 Sustainable development: What perspectives does exploration of the subsurface offer?
Whether it's to exploit stressed mining resources more locally, develop low-carbon energy sources or reduce the impact of industries that emit large amounts of CO2, technological innovation will not be possible without extensive exploration of the subsurface. In this European Sustainable Development Week, we take a look at some promising leads.
CO2 capture and storage (CCS) techniques
Capture and storage (CCS) techniques consist of trapping CO2 before it is released into the atmosphere and injecting it underground, either into depleted natural gas and oil reservoirs or into porous rocks containing salt water (aquifers). These techniques mainly concern activities that emit large amounts of CO2 such as power plants using fossil resources (coal, natural gas, oil), the steel and fertilizer industry, waste incinerators or blue hydrogen production units (production of hydrogen from methane or coal, combined with CCS techniques).
Why is this interesting in terms of sustainable development?
Concerns about global warming are currently leading to a desire to decarbonize industrial activities. However, for a certain number of them, few alternative solutions exist. CCS techniques could allow them to continue while reducing their negative impact on the climate.
Where do we stand today?
CCS techniques have been tested for many years and are now reaching maturity. With the implementation of the Northern Lights project, which should be operational in 2024, Norway is a pioneer in Europe. The ultimate goal of this project is to inject 5 million tons of CO2 per year into an offshore reservoir, located on the west coast of the country at 2,600 meters depth. Other projects are also underway, such as the Porthos project in the Netherlands and the Orca project in Iceland.
What are the development perspectives?
We need 400 units like Northern Lights in Europe to meet the objectives of the Paris Climate Agreement. But for these technologies to be widely deployed, it is urgent to identify storage sites capable of absorbing large quantities of CO2. According to the IEA's Net Zero by 2050 roadmap published on May 18, 2021, storage locations should globally increase from 40 to 5,000 million tons per year (0.04 to 5 Gt/year) between now and 2050.
Lithium
Lithium is found in the brines of salt lakes, but also in pegmatites (granitic rocks with large crystals) and some granites. It is an extremely light metal whose physicochemical properties make it an indispensable mineral in many industrial applications, notably the manufacture of lithium-ion batteries for hybrid and electric cars, and portable devices (telephones, computers).
Why is it interesting in terms of sustainable development?
Lithium is essential for the implementation of "low-carbon mobility". But the exponential development of digital technology and green vehicles has, in just a few years, led to the doubling of, the world's lithium needs, which have been struggling to be met for some years.

Where do we stand today?
The Lithium is mainly refined in China, but massively produced in Australia and Chile. Many European countries, including France, import lithium while ignoring the often unsatisfactory conditions in which it is mined (environmental impacts, working conditions of workers, etc…). However, lithium resources exist in the European subsurface, and their exploitation would allow countries to be more autonomous and to better control the conditions of exploitation.
What are the development perspectives?
The establishment of an European lithium industry implies diversifying the sources of supply to meet the demand, and therefore exploring the subsurface. In France and in Europe, the potential could exceed 200,000 tons of lithium metal (hard rocks in the Massif Central, geothermal brines in Alsace). On the French-German border, there is also a dormant resource consisting of hot geothermal waters of the Rhine Graben. An European exploitation could allow, from various geological sources, to produce lithium locally, sustainably and in a virtuous way.
Helium
The Helium is permanently produced in the earth's crust from the radioactive decay of uranium and other elements. It is generally extracted from natural gas fields (methane), a small fraction of which contains helium. Its extreme rarity and physical and chemical properties make it a highly sought-after resource for the high-tech industry, in the medical, electronics, aeronautics and space fields (flat screens, fiber optics, semiconductors, MRI, etc…).
Why is it interesting in terms of sustainable development?
Helium production sites are currently limited and concentrated in a few countries: United States, Qatar, Algeria, Australia, Russia and Poland. It is therefore at great energy cost that Europe imports it in liquefied form at -270°C. Producing helium in Europe and for Europe would allow energy savings and lower its price. Moreover, most of the reserves are linked to natural gas fields; by choosing to jointly produce helium with other gases such as natural hydrogen (called gold hydrogen), it would be possible to support the movement towards decarbonization of the industry.
Where do we stand today?
Helium fields, particularly in North America - which accounts for about 75% of the world's helium - are being depleted as demand increases, resulting in soaring prices. Hence the importance of setting up new underground exploration studies to identify more accumulations.
What are the development perspectives?
In France and in Europe, natural helium upwellings have been identified coming from a depth of several hundred meters. These could be leveraged to make countries independent of this resource. It is in this context that 45-8 Energy is working in collaboration with Eliis on the characterization of the subsurface in the area of interest.
Geothermal energy
Geothermal energy consists of recovering the energy stored under the earth's surface and using it either to heat or cool buildings or to produce electricity. It involves exploiting the underground hot water pockets or circulating water in the rock to recover heat. A distinction is made between surface geothermal energy (less than 200 m) and deep geothermal energy (deep aquifers, volcanic zones, graben).
Why is it interesting in terms of sustainable development?
Geothermal energy has two major advantages: it emits very few greenhouse gases and it is a renewable energy source. Moreover,
unlike fossil fuels, these heat reserves are not located in a few specific sites or at the bottom of the sea, but on all continents.
Where do we stand today?
As far as deep geothermal power generation in Europe is concerned, 130 plants were in operation in 2019, led by three countries: Turkey, Italy and Iceland. In Europe, 36 projects are under development and 124 are in the planning phase. In terms of geothermal power for heating networks, Turkey, Iceland and France are in the lead. In France, the Paris Basin has the highest potential, with some 60 production sites. Germany is also in the race, with 25 sites in service and 35 planned.
What are the development perspectives?
Geothermal energy should develop in the coming years to become a spearhead of the energy transition. Currently, it is financially less profitable than fossil energy sources and must therefore be supported, which implies a strong political will and research development. The discovery of lithium in some subsurface hot water aquifers exploited by geothermal power plants could represent an asset by offering additional revenues and attracting new investors.
Gold hydrogen
Also called "natural" or "native", gold hydrogen is an extremely light gas (H2) that is formed through physicochemical phenomena occurring naturally in rocks. These reactions continuously release H2 molecules from water molecules (H20). Gold hydrogen is therefore a renewable energy that could be used as a green fuel for "low carbon" mobility, heating, fertilizer production, refining, etc.
Why is this interesting in terms of sustainable development?
The exploitation of natural hydrogen could compete with other categories of hydrogen, notably grey and brown, whose manufacture from oil and coal is certainly profitable but highly CO2 emitting, but also green and yellow, whose manufacture from renewable energies or nuclear energy has almost no impact on carbon emissions but remains uneconomic in terms of energy.
Where do we stand today?
At present, only one well in Mali is under exploitation. Researchers have already identified a large number of surface emanations in Russia, United States, Europe, Australia, Brazil, etc. These are just waiting to be explored.
What are the development perspectives?
The global demand for hydrogen is expected to increase eightfold by 2050. According to scientists, between 50 and 1900 kg/km2/day of natural hydrogen could be produced by the Earth. Currently, the real potential remains poorly known, and only drilling and exploitation will provide more precise data. Moreover, hydrogen is sometimes associated with helium emissions, a rare and therefore expensive gas; the approach consisting of jointly value those 2 gases could make it possible to finance the exploitation of hydrogen.
Véronique Molénat, Scientific Editor.
Sources:
https://www.iea.org/events/net-zero-by-2050-a-roadmap-for-the-global-energy-system
https://www.egec.org/wp-content/uploads/2021/06/MR20_KF_Final.pdf
https://www.egec.org/wp-content/uploads/2020/06/MR19_KeyFindings_new-cover.pdf
http://infoterre.brgm.fr/rapports/RP-68321-FR.pdf
https://www.hnatsummit.com/natural-hydrogen-a-geological-curiosity-or-the-primary-energy-source-for-a-low-carbon-future/