Carbon storage: an effective way to mitigate global warming?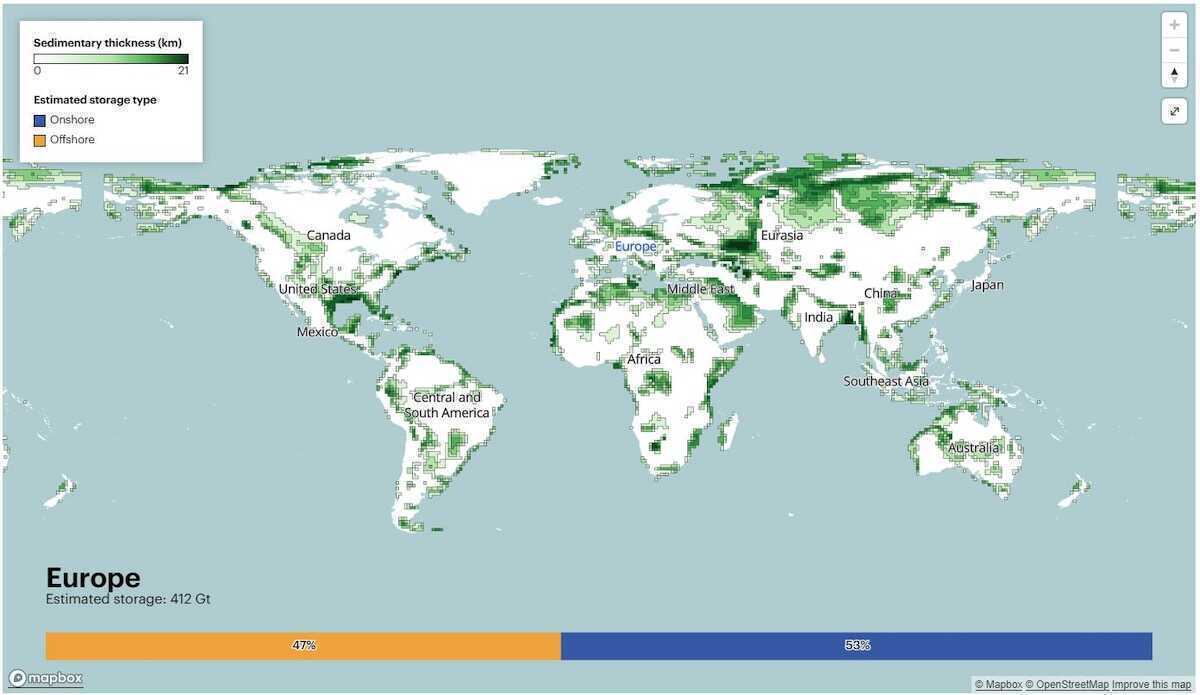 Carbon storage: an effective way to mitigate global warming?
According to the International Energy Agency (IEA), in order to limit global warming to 1.5°C by the end of the century, "the energy sector must achieve a total transformation by 2050." In the roadmap published by the agency in May 2021, the development of CO2 capture and storage (CCS) techniques is one of the key pillars for a successful transition to clean energy. This development involves identifying geological formations capable of storing quantities of CO2 that could reach 5 gigatons per year by 2050.

Reducing CO2 emissions directly in critical economic sectors while removing CO2 to offset emissions that cannot be avoided is the key to using CO2 capture and storage (CCS) technologies to help reduce greenhouse gases in the atmosphere.
The problem is that for these technologies to be widely deployed, it is urgent to identify storage sites capable of absorbing large quantities of CO2. According to the IEA's Net Zero by 2050 roadmap, published on May 18, these quantities should increase from 40 to 5,000 million tons per year (0.04 to 5 Gt/year) between now and 2050.
A mature technology
Risks of leakage, earthquakes, accidents... CO2 storage raises many questions. However, the technique of sequestering CO2 in geological formations has been known for a long time.
First, it is important to know that it follows the same process as the sequestration of underground oil and gas for millions of years. Moreover, large-scale CO2 capture and injection projects already exist in Norway (Sleipner offshore gas field, Snøhvit), Canada (Quest), the United States (Illinois Industrial) and Australia (Gorgon). Finally, oil producers have been using this technique for many years to improve the yield of certain fields.
These experiments have now made it possible to control the risks associated with leaks or earthquakes, although careful selection and evaluation of storage sites are still essential, as is the implementation of comprehensive systems for monitoring the stored CO2.
Huge, but still underexplored geological potential
According to initial estimates, the global storage capacity of the earth's crust ranges from 8,000 to 55,000 Gt, which is far in excess of the needs that would be required for massive CO2 storage. Particularly numerous in Russia, North America and Africa - with only a few countries facing shortages by 2070 - potential storage sites are in deep saline formations and depleted oil and gas fields, both onshore and, to a lesser extent, offshore.
Several countries already in the starting blocks
The United States, where the largest storage capacities are located, Norway, Great Britain and China have already initiated several ambitious CCS deployment projects. For these countries - and all those that will opt for this technology in the years to come - it is a question of finding storage sites as close as possible to the capture sites, but also of optimizing CO2 injection rates and controlling the characteristics of the storage reservoirs. The challenge is to reduce costs, especially transportation costs, so that this technology can be deployed as quickly as possible and play a full role in reducing atmospheric CO2.
Véronique Molénat, scientific editor.
Sources :
The world has vast capacity to store CO2: Net zero means we'll need it – Analysis - IEA

Net Zero by 2050: A Roadmap for the Global Energy Sector - Event - IEA