Eliis and 45-8 Energy Announce Strategic Collaboration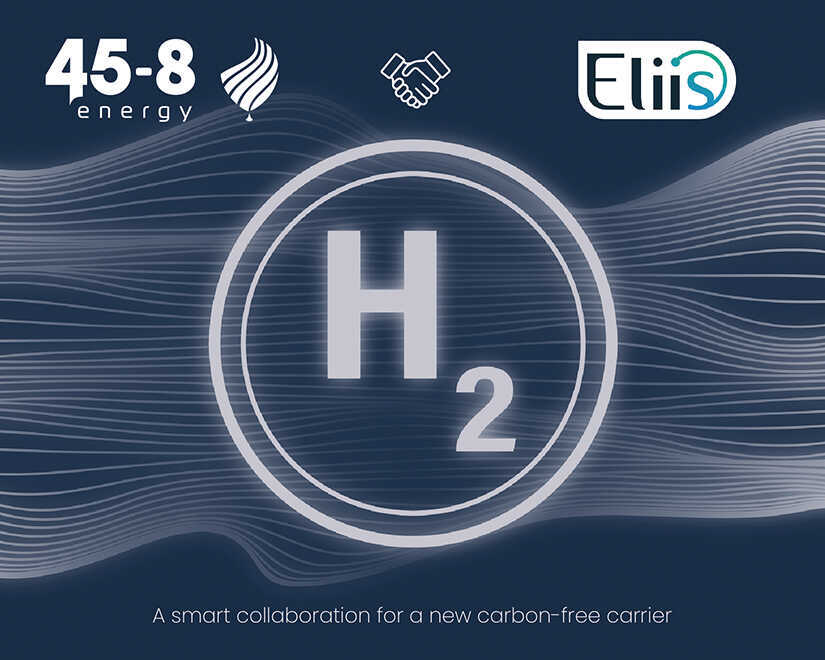 Eliis and 45-8 Energy Announce Strategic Collaboration to Accelerate joint exploration and production of Helium and Natural Hydrogen in Europe
MONTPELLIER, FRANCE – January 6, 2022 – Eliis, an international software leader in seismic interpretation and geoscience services provider, is partnering with 45-8 Energy, an European eco-friendly start-up specialised in helium and natural hydrogen exploration and production. The two companies will aim to accelerate the helium and natural hydrogen exploration projects in the ambition to provide a local and sustainable helium and hydrogen supply chain to the European market.
Through this collaboration, Eliis will actively support 45-8 Energy R&D projects by challenging and pushing forward its technology to embrace the needs of an eco-friendly near surface gas exploration. Combining innovative technology and intuitive design to rapidly enhance geological understanding through the integration and analysis of various geological and geophysical data will be the key contribution from Eliis.
"Developing a fit-for-purpose toolkit to tackle near surface exploration challenges will empower geoscientists to systematically and efficiently integrate multiple geophysical data type, better identify and characterize helium and hydrogen accumulation underground and ultimately speed-up the decision-making process", stated 45-8 Energy President & Co-founder Nicolas Pelissier.
45-8 Energy is a promising start-up company dedicated to the development of a joint exploration and production of helium and natural hydrogen with the ultimate goal to launch an European in-house and carbon-free supply chain. In addition to multiple research projects aiming to discriminate favourable geological contexts for a renewable and sustainable productivity of helium and hydrogen gas, they are deploying a specially-designed sensor with the ability to detect and measure in real-time natural gas fluxes in the near surface.
The collaboration will bring new adapted solutions for accurate resources-targeted geological models and significant time savings to natural resources and near surface exploration industries such as geothermal and geotechnics.
"Our exploration workflow involves quite a large number of different data which could be geophysical (such as gravity, magnetics, electrical resistivity tomography, 2D/3D seismic, CSEM, magnetotelluric,…), geological (surface geology, wells logs, lithology,…) or geochemical (soil gas sampling, seepage monitoring,…) making it quite a challenge to easily load and integrate them for proper evaluation and decision making process. Our two teams already exchanged multiple data and identified very interesting add-ons that could make our life easier", stated Benoît Hauville, Chief Executive and Co-founder of 45-8 Energy.
45-8 Energy is an active member of the earth2 initiative driven by the Pôle Avenia, committed to creating a common European banner capable of federating subsurface hydrogen players, both through natural hydrogen production and its underground storage.
"Helium and natural hydrogen will play a critical role in meeting global energy transition and net-zero ambitions. 45-8 Energy and Eliis are paving the way to a new carbon-free energy carrier by developing an effective and adapted technology to efficiently and reliably detect these resources in the near surface. We are excited about the potential this technology holds for energy transition!" Noted Eliis' CEO & Co-founder Sebastien Lacaze.
About Eliis
Eliis provides a competitive and integrated seismic interpretation software that enables energy companies to achieve successful subsurface investigations, creates new opportunities for energy supply enhancement and de-risks the decision-making process. PaleoScanTM' cutting-edge technology, used for the detection and characterization of geological reservoirs at unprecedented level, is a key asset for accelerating E&P workflows and limiting environmental risk. Our mission is to provide sustainable and affordable subsurface energy solutions to cover the world ever-growing energy demand.
Learn more about Eliis at www.eliis-geo.com
About 45-8 Energy
45-8 ENERGY is a France based company dedicated to the exploration and production of strategic industrial gases which are essential to the ecological and energy transition, such as helium and natural hydrogen. Its approach focusses on short supply chains enabling human size local projects targeting a nearby consumption. A unique approach in Europe !